HYPAC™ Retort Pouches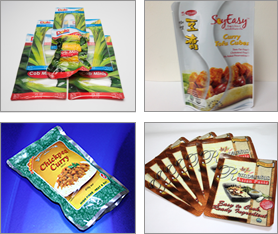 HYPAC offers 3-side sealed laminated retort pouches of various capacities up to 20kg for the packaging of fishes, cooked food, soup, sauces, pet food etc.
Stand-up (doy pouches) are also available.
Ziploc feature can be incorporated onto the pouch, besides the usual features such as tear notch and round corners.
Available in aluminium or transparent pouches, using Siox (silicone oxide) or Aiox (aluminium oxide).
Extended shelf life of up to one/two years.
Unprinted or printed up to 8 colours roto-gravure.
HYPAC™ retort pouches comply with US FDA, BRC, BGA and EC regulations for direct food contact.

Contact us now with your enquiry!