PP Barrier Retort Trays / Cups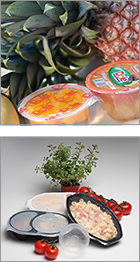 The barrier tray is a 5-layer high barrier retort tray of film structure PP/TIE/EVOH/TIE/PP. The EVOH layer ensures an excellent oxygen barrier.
Excellent oxygen barrier due to EVOH barrier layer
Reheatable in microwave oven and by bain-marie
Temperature tolerance from +2ºC to +125ºC
Long ambient product shelf life
Heat sealed with non-peelable or peelable film. Not permanent.
Applications: Retorted and pasteurized ready meals
Standard Colours: White
Special Colours: Possible on request

HYPAC™ PP barrier retort trays/cups comply with US FDA, BRC, BGA and EC regulations for direct food contact.
Contact us now with your enquiry!