Drum Liners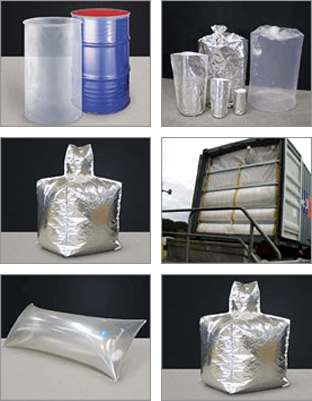 Form-In liners

The thermoformed, seamless Form In-liners fit each outer container like a second skin. Suitable for all types of pails, plastic and steel drums from 5 to 225 litres.



Round bottom liners

are custom designed and can be manufactured with diameters ranging from 10cm-140cm, with capacities from 10 to 1000 litres.

A key feature of our round bottom liners is the tubular jacket part, the size of which corresponds to the internal diameter of the container. The standing height of the liners will also depend on the size of the outer container.

The thickness and grade of liner material will depend on the characteristics of the product contained in the drums. Available in LDPE, HDPE, PP, multi-layer high barrier films e.g. EVOH or nylon films, aluminium etc.



Liners for cartons

and FIBC's can be custom designed and made from different materials.

The filling spouts can also be custom designed and fitted according to specific requirements. There are a variety of discharge spouts available, including valves which are ideal for the partial discharge of most products.



Container Liners



Sea container liners are filled through a nozzle in the door or through a manhole in the top of the container. The liner is supplied ready for use, complete with the right equipment to fit the liner into the sea container. Available in LDPE, aluminium or co-extruded materials (EVOH or Nylon).



Liners for Beertanks

The beertank liner is made of multi-layer high barrier films which has excellent moisture or oxygen barrier properties.
The films used comply with US FDA, BRC, BGA and EC regulations for direct food contact.
Contact us now with your enquiry!