Cellulose Film - Hot Melt Coated Film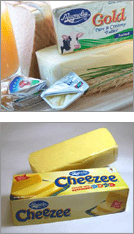 This process consists in applying on a film (generally a polyester or a cellophane) a coating of very high viscosity wax.
The wax gives the film a very attractive natural look along with numerous other properties, such as that of easy opening and reclosing.
Available in roll form or pre-formed pouches.
The film complies with US FDA, BRC, BGA and EC regulations for direct food contact.
Contact us now with your enquiry!